Welcome to
THE LAST THING THURSDAYS
! I'm so exciiiiiiited you stopped over!
Here we go........
The Last Thing I...........
READ:
Let's get real, I don't have a whole lot of time to just sit back and read a WHOLE BOOK! :) So, I read Lucky Magazine..or flipped through the pics. That counts, right?
My obsession with Pinterest has GOT TO STOP. Pin ALL THE THINGS, right?! :)
But I looooove the pastels & stripes together..so cute!!
You can follow me HERE on Pinterest
BLOG POST I READ:
(Ok, I do have some time to read Blog Posts :)
Jenni from
Story of My Life
. She is just the BEST writer. And she happens to be VERY VERY sweet in "Real Life." Have you seen my buttons? Yup, she DESIGNED THEM ALL! Love her!
New Girl. So funny. It's VERY RARE when I actually LAUGH OUT LOUD at a TV Show. This one does it to me every week.
Epic fail. These LOOKED SO GOOD in theory. They tasted like....well, for lack of a more elegant word..like CRAP. :) STAY AWAY from these tricksters!
I'm THRILLED about this one. I can't really say WHAT it was that I did yet (I want the person to be surprised)...but I did use MY SHINE CARD! YAY!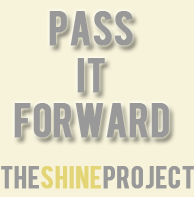 BAKED:
I must be on a baking kick lately. I've made muddy buddies, rice krispie treats, and brownies. Yikes. It's not so good for MY WAISTLINE, but the Hubby sure appreciates it!!
I made THESE brownies. Try this recipe! It is SO GOOD!
Have you heard of Beauty Balm yet? It's also called Blemish Balm in Asia. It is supposed to be this "wonder cream"..and so far, I have to agree.
It is supposed to moisturize, minimize lines, reduce pore size, reduce acne scars (YAY) and conceal all in one SWEEP! There are lots of different brands, but this one is the one I got--it's GREAT!
Thanks for joining in the link-up party girlies!
Make sure to link up to YOUR POST below (not your general blog) and then go visit some new friends!
Jenna, The Wife
PS...I WILL BE ON VACATION -- GOING TO CREATIVE ESTATES!!!!! -- UNTIL NEXT MONDAY! SO I'M TAKING A LITTLE BLOGGING BREAK UNTIL THEN! SEE YA NEXT WEEK! :) :)
Pin It