Happy Tuesday! I'm a little crazed this week trying to get ready for Thanksgiving and all that.
My Mom put me in charge of making 60+ Rolls and Artichoke Dip for our dinner...so there's that.
KIND OF a lot of pressure - I mean..if you screw up the rolls..you pretty much RUIN Thanksgiving. ;)
Wish me luck!
But welcome to the 5th Link-Up for
Me, Myself & I
!
QUESTION 1:
What are your TOP 5 FAVE MOVIES to watch during the Holidays?
Ooooh I love me some Holiday Movies. It totally gets me in the mood for everything Christmas. You know what I just realized though? There are NO GOOD Thanksgiving movies. This Holiday totally got jipped. At any rate...my faves are:
Jingle All The Way (dont judge me..it's so bad it's good)
And ALL the Rankin-Bass movies!
QUESTION 2

:
It's the month of giving thanks - what are you thankful for?
Well, I wrote a
whole post on this
, but I continue to remember things I'm thankful for. Since Instagram has been LOADED with everyone saying what they're thankful for!
Here are a couple more (
cause you can never be TOO thankful, right?
):
Sketch by Moi.
NAPTIME.
ELECTRICITY.
ACNE CREAM.
HOT CHOCOLATE.
BEING ABLE TO PAY FOR GROCERIES.
TERRY'S CHOCOLATE ORANGES.
QUESTION 3

:
If there was a quote/verse to describe your life, what would it be?
This one:
AND definitely this one:
Hehe.
QUESTION 4:
Who in your family are you most alike?
We are all pretty different in my family. But I am definitely most like my sister, Taryn.
We think the same...we joke the same...we whine at our hubbies the same...we have the same style (although she dresses much cuter than I do most of the time).
And we share a HUGE love for sour candies.
Gosh I'm gonna miss her when she moves in January. Waaaaaaaah!
What is your favorite drink order at Starbucks?
Lemme just preface this by saying I HATE COFFEE. It's just yucky. I know - GASP away.
Still....yuck. I have tried every possible combo to "make" it taste good..but still no success.
But this time of year, I DO love the Pumpkin Steamers! SO DANG YUMMY!!!!!
(it's just steamed milk with pumpkin spices in it). Try one & thank me later.
So there you have it.
Now come and join in the fun & link up below! Grab a button, and go mingle your butts off!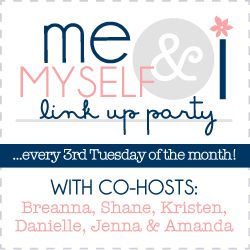 Pin It