I just wanted to take a quick minute and talk a little bit about choices (it's about to get serious, people).
Recently, it has come to my attention, that some of my "friends" have been talking negatively about me behind my back (gasp!). I used to be one of those girls...but that was A LONG TIME AGO. I grew up, I grew out of that
phase
of talking badly about people...just to make myself feel better. The reality of it now is, that I just don't HAVE TIME to waste talking horribly about someone. I have no time to waste CRITICIZING people. The truth is, no one should.
However, I have made an effort in my life to
choose
to be happy...to
choose
to be happy
for
others.
Yes, there may be times when I think for a minute about how I might be jealous of someone else, or what someone else is doing, or how they seem to "have it all," but I don't let myself dwell on it. I have made a conscious
CHOICE
to be happy with what I have. What good does it do me to whine about what I don't have? Because, when you
look at what you DO HAVE
, life is pretty dang amazing. My Mom always says, "It could always be worse." And she is absolutely right.
So here is to all of you who make a CHOICE to be happy, to CHOOSE joy, and to be truly HAPPY for other people. My friends that are my TRUE FRIENDS are always genuinely happy for me and what I have and vice versa. I always want to look at life HALF FULL!!!
I have a saying on my mirror that reads...
"

HAPPINESS IS A CHOICE, AND I CHOOSE TO BE HAPPY

"
I hope you decide to
CHOOSE HAPPINESS
, my friends!! It's soooo much better :)
Ok, I'm getting down from my soapbox now :)
___________________________________________________________________________________________
So...to show my gratitude to all of you AMAZINGLY BEAUTIFUL, HONEST, HAPPY PEOPLE...I am paying it forward (in a really small way :)!
My gorgeous (and very long-time) friend Kami, has graciously decided to give away
one item
(you can pick
ANYTHING
) from her Etsy shop, SEVENTH STUDIO!!!
***
except the two bouquets***
Some of my favorite things from her shop:
These colors of this brooch pin are so gorgeous together!

Love this rosette headband!
How cute is this!?
To Enter (The Fine Print):
**REQUIRED
1. You
MUST
be a follower of my blog (you can join over there if you aren't ---------->)
2.
Visit
Kami's Seventh Studio Shop
here
and leave a comment telling me the one thing you would like to win from her shop!
(for additional entries...LEAVE A SEPARATE COMMENT FOR EACH!)
1. Follow me on Twitter
here
2. Follow me on BlogLovin'
here
3. Tell me one
nice
thing you did today
4. "Like" Seventh Studio on Facebook
here
The Giveaway is open until Monday, February 20 at Noon (MST)!
PS..I am linking up today with cute Heather over at
Finding Beauty in the Ordinary
(love her oodles) for her "CUP 1/2 FULL" link-up party! Come join in! Share something amazing, inspiring, or beautiful!! How do YOU look at life?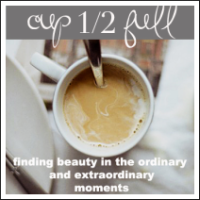 Oh, and of course, I hope you have a...
BEAUTIFUL, LOVELY, and SWEET VALENTINES DAY TOMORROW!
Jenna, The Wife
Pin It