I don't know about you, but once my Christmas Tree is up, it
officially
feels like Christmas. If I could, I would sit in front of my tree, with it's lights all a glow all day long. I really would.
I
also
love being a little bit of a voyeur and driving by other people's houses, looking into their windows as we pass, and seeing THEIR Christmas trees sparkling so bright.
Since I can't be creepy and drive to all of YOUR houses...we will just do it via internet instead. ;)
So, join Miss
Ginny from Chasing Sunshine
& I on
MONDAY, DECEMBER 17
and link-up pictures of
YOUR BEAUTIFUL, SMALL, BIG, TALL, SHORT, or FAT Christmas Trees
!!
You got it, right? So why not flaunt it!? We want to see what ya got!
Say WHAAAAT? That doesn't entice you enough? Oh...there will be a little competition too (
I'm always more excited when winning is involved!
)!!
I'm KIND OF TOTALLY obsessed with their beautiful site/beautiful products.
Check out their entire site
HERE
.
AND
A

Wax Seal Necklace

&

Crystal Bracelet

from

ADIE'S LOVELIES

!!
Morgan makes GORGEOUS things. She happens to be super amazingly cute too.
Check out her entire shop

HERE

.
All you have to do is link-up some awesome pics of YOUR Christmas Tree on Monday!
Ginny & I will pick our fave, and YOU will win the prizes above!!
Even if you DON'T win...it's still fun to see everyone else's purrrrrty trees, right?
But winning IS awesome too, let's face it. Hehe.
GRAB A BUTTON & we will see you on Monday, my fellow Christmas-Tree-Lovers!!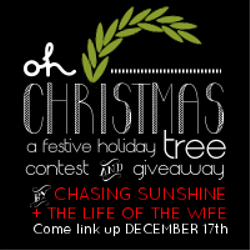 Pin It