Dear Cabo

,

You were friggin' awesome. Much needed. Totally worth it. Thanks for the sun. Thanks for the fun. Thanks for the tan. Post on you comin' up soon.
Dear Laundry
,
You suck. Go away. Where is this "laundry fairy" I've been hearing so much about? Can you send her to my house, pretty please?
Dear Davis,

I missed you OODLES, little monkey. How did you learn so many things/turn into a 7 year old while I was gone? You saying "Thank You" and "Please" (instead of just signing them) is pretty much the cutest thing ever.
Dear Sun,
You and me are best friends, now. You healed my soul. If you could just come around my house more often, that would be great. Thanks.
Dear Snow,
I didn't miss you one bit. I think a move is in order. Get me outta here!
Dear Body,
You look pretty good lately. I've had a hard time saying that for almost two years now, but I'm pretty happy with how you're lookin'. Keep it up. I think the hubby likes it too. Just sayin'.
Dear Blog & Shop,
I've neglected you both lately. Sorry 'bout that.
The good news?
You might be getting a HUGE RE-DO here pretty soon. I'm kinda excited about it. You need a makeover fo sho. Thank me later. :)
Dear January

, I'm glad we're over. You were not that great to me. Frankly, I won't miss you at all. Hopefully February likes me more than you did.
Dear Readers,
Thank you for putting up with my not answering emails, blog breaks, non-social media presence, and just my absence in general. It's been kinda crazy around these parts, so thank you for bearing with me. I promise some AWESOME things are coming. If you're still listening, of course. Hello? Anyone? :)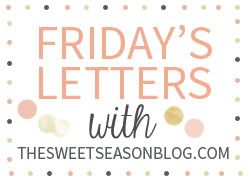 See ya soon for my Cabo trip post!
Even though I couldn't find my camera charger, so most of the pics are Iphone pics. I know, I know...I'm a bad blogger. Tsk tsk. :)
Oh...and one more PRETTY IMPORTANT THING!!!
The WINNER of the FOREVER 21 GIFTCARD IS......
MIKAELA P.!!!
Enjoy that shopping trip, girlie!
I will email you today, lady! CONGRATS & THANKS TO EVERYONE THAT ENTERED! And THANKS to my awesome sponsors

Liz, Angela & Summer

for putting ON such an amazing giveaway!
Pin It